Moment Frozen in Time: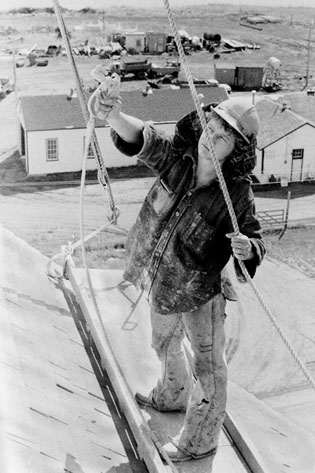 Here's a photo that might bring some smiles to the people who are currently climbing or working on wind towers in the area—and horror to the minds of the Workers' Compensation Board staff. The year was 1976 and this fellow (anyone recall who he was?) can be seen with his own style of safety gear: hang onto a single rope with one hand while spray-painting with the other. This appeared on the front page of The Provost News of May 5, 1976. Here's how the original cutline read: "Don't Look Down . . . Things are looking up for this workman as he is near the top of the Pioneer elevator in Provost giving the building a fresh coat of paint. Even though he was new on the job he invited the photographer for a walk on the roof for a real good view. The photographer declined." ©Provost News File Photo.
See inside the print edition of The Provost News, October 21.
Want to Subscribe to The Provost News? Click here.
More pictures, stories can be found in the print edition of The Provost News, October 21, 2015 including:
• Conservative Sorenson Takes 81 Percent of Battle River-Crowfoot Vote; Liberals Win National Majority
• Moose Pictured Stopping by Farmyard
• Employment/Careers
• Salt Causes White Patches in Town
• Alberta Digging Into Debt Says Wildrose MLA.
• Litter Found on Road South of Airport

Get more stories by subscribing to The Provost News? Click here.