Excuse Me. No, Pardon Me . . .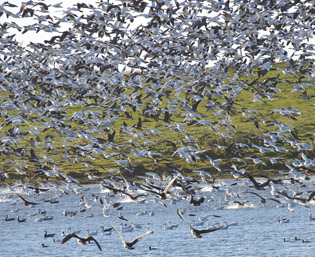 Geese by the thousands were in the air near one body of water south of Hayter as they were passing through from Canada's north getting ready to continue on their way to warmer climates. Some hunters however couldn't wait and one man from a warmer climate himself—Dallas, told The Provost News that he and some friends recently drove up from Texas in their automobile for a quick hunt in the area before motoring back. Winging their way through this area are snow geese (seen here mainly), Canada geese, Ross' goose and lesser snow geese. Ducks here meanwhile generally include mallards, the northern pintail, northern shoveller, bufflehead and gadwall. The local hunting season runs from September 1 to December 31—though for the white goose there is also a season in the spring in Alberta and Saskatchewan. ©Provost News Photos.
See inside the print edition of The Provost News, October 14.
Want to Subscribe to The Provost News? Click here.
More pictures, stories can be found in the print edition of The Provost News, October 14, 2015 including:
• Super El Niño Means a Mild Winter Here, Says Climatologist
• Pengrowth to Sell Bodo Oil Property For $95 Million
• Employment/Careers
• Panthers Football Team Takes Win Over Redwater
• Ducks Unlimited Says Compensation Available to Landowners, Farmers For Wetland Restoration
• Letters to the Editor
• Winners for the 9th annual pumpkin festival were announced Friday evening, October 9 in Provost. First place was Arnold Seim with his pumpkin weighing in at 275 pounds and three ounces. Second place went to Gracie Bugler while Dao Cater was third.

Get more stories by subscribing to The Provost News? Click here.