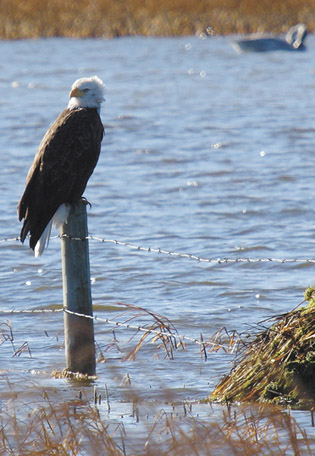 This bald eagle takes a keen interest in its surroundings as it swivels its head around to see just what might be off in another direction. The bird has been spotted on occasion just south of the Reg and Lucy Golding house which is east of Hayter and near a body of water. Sometimes two of the large birds can be seen sitting on fence posts while other waterfowl—like the swan in the background also share the area. The eagles weigh between 7 and 12 pounds (3 to 5.5 kilograms) with an adult wingspan reaching 8 feet (2.5 metres). The birds are found only in North America, eating fish, rodents and small birds. Populations are low in Alberta but the bald eagle is protected by the provincial Wildlife Act and classified as a non-game species. ©Provost News Photo.
See inside the print edition of The Provost News, November 11.
Want to Subscribe to The Provost News? Click here.
More pictures, stories can be found in the print edition of The Provost News, November 11, 2015 including:
• ''China and India Want Canadian Energy'
But Producers Being Choked Off—CEO
• TransCanada 'Absolutely Committed' to Pipeline After U.S. Rejects Keystone XL
• Employment/Careers
• Remembering World War One and Two Through the Files of The Provost News.
• Theft, Damage at Oilfield Site
• Straw to Control Water Erosion
• STA Girls Volleyball Team First in Playoffs Advances to Zone Championships

Get details of these and other stories by subscribing to The Provost News Click here or call 1-780-753-2564.


















'Misplaced Symbolism Was Chosen Over Merit and Science — Rhetoric Won Out Over Reason: President and Ceo, TransCanada
TransCanada Corporation has released the following statement from President and Chief Executive Officer Russ Girling following U.S. President Obama's denial of a Presidential Permit to build the Keystone XL pipeline:
"We are disappointed with the President's decision to deny the Keystone XL application.

Today, misplaced symbolism was chosen over merit and science—rhetoric won out over reason.

The U.S. consumes over seven million barrels per day more oil than it produces and will continue to do so for decades, even despite U.S. oil production increases. It is disappointing the administration appears to have said yes to more oil imports from Iran and Venezuela over oil from Canada, the United States' strongest ally and trading partner, a country with rule of law and values consistent with the U.S.

Today's decision deals a damaging blow to jobs, the economy and the environment on both sides of the border.
Through the course of its review, the U.S. State Department issued five very comprehensive and balanced scientific reviews of Keystone XL since 2010. Tens of thousands of pages of evidence from its own employees and agencies irrefutably show Keystone XL is the safest, most environmentally sound way to transport needed energy to Americans.

These reviews further found that approval or denial of Keystone XL would be unlikely to significantly impact the rate of production in the oil sands, or the continued demand for heavy crude oil at refineries in the United States.
In addition, the State Department's review presented compelling evidence that clearly should have satisfied the President's stated test that Keystone XL would not significantly exacerbate greenhouse gas (GHG) emissions.
The State Department's January 31, 2014 Final Supplemental Environmental Impact Statement also concluded that the total annual GHG emissions transporting oil by rail to the Gulf Coast is about 42 percent greater compared to transporting that same oil through Keystone XL.
Today's decision cannot be reconciled with the conclusions of the State Department's comprehensive seven year review of the project.

Numerous independent studies have consistently concluded that the safest way to transport oil is in a modern, safe pipeline. Keystone XL would help replace the higher risk trucks, trains, barges and tankers currently carrying oil to market, and would provide the U.S. with energy supply security by connecting U.S. and Canadian producers to American refineries with a pipeline running four feet under the ground.

By dismissing the 9,000 jobs for Americans building Keystone XL as "only temporary", the administration has ignored the value of infrastructure jobs and has taken away work from those who seek it. In total, some 42,000 related jobs would not be created in the U.S. value chain as a result of this decision.

Counties and communities will no longer have access, annually, for the life of the project, to hundreds of millions of additional dollars in revenue generated from taxes paid by a company that has already injected almost $200 million in tax revenue into communities along the existing Keystone route.

In Canada, the U.S. denial impacts citizens across our nation at a time when jobs, economic stimulus and competitiveness are critical for the country.

This has been a shovel ready project in Canada since it was deemed to be in the public interest by the National Energy Board in March of 2010. Keystone XL would put 2,200 skilled Canadians to work almost overnight, with thousands more workers benefiting along the full value chain. Canadian manufacturers will lose out on millions more of spin-off activity that this U.S. $8 billion privately-funded project would provide.

We are thankful for the support of American and Canadian workers, labor organizations, industry, our shippers and, most of all, Americans and Canadians.

TransCanada is reviewing the decision and its rationale. We believe KXL is in the best interest of the United States and Canada."