Ceremonial Hoop Dance Tells Story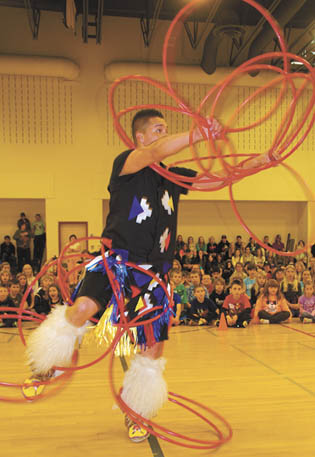 Twenty-four year old Jerry Saddleback Jr. concentrates to keep all his hoops in the proper place at the right time—including those around his legs as he performs for students at Provost Public School on Thursday morning, May 7. Saddleback said that the storytelling hoop dance has been in his family for over 100 years and that he began the tradition handed down to him when he was four years old—and he in turn is teaching his five year old daughter the moves. The Samson Cree Nation member says that originally when his grandfather Joe Saddleback worked on a particular hoop dance that the hoops were made out of red willows. This and other dances were accompanied by the sounds of drums. People can see similar displays at a variety of drumming and dancing competitions across the Prairies this spring and summer. ©Provost News Photo.

See inside the print edition of The Provost News, May 13.
Want to Subscribe to The Provost News? Click here.
Give Your Opinion on our website to this question:
Are You Happy With the Results of the provincial election?
More pictures, stories can be found in the print edition of The Provost News, May 13 including:
• $TA School Honours 27 Students at Graduation

• Library Celebrates With Poetry Read and Social
• Employment/Careers
• NDP to Lead Alberta Government With Majority; Wildrose's Taylor is New Local MLA
• Athlete Training for Olympics Welcomed to Provost

Get more stories by subscribing to The Provost News? Click here.