Provost Firemen Raise Money at Annual Ball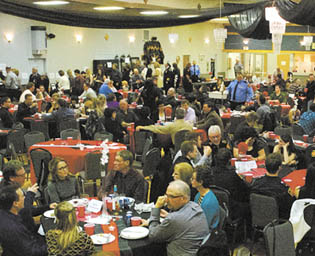 This picture shows part of the crowd at this year's Provost Fireman's Ball and auction held on Saturday night, February 28 at Prairie Hall in Provost. Dozens of donated items were sold by both silent and live auction that night after a supper was enjoyed. The annual event was held to raise money for the Firemen's Victim's Assistance Fund, which helps certain families in need who live in the fire-fighting region. Firefighters gathered a variety of items from businesses, organizations and individuals for the door prizes, auction items, cash or other services to raise money. Awards were also presented to some of the local firemen. Fire chief Barry Johnstone said the attendance was "down a little bit, but all in all I think it went well. I think the numbers, the dollar figure will be down a little." He added that he appreciated everyone for attending and "for making it a success again." ©Provost News Photo.

See inside the print edition of The Provost News, March 4.
Want to Subscribe to The Provost News? Click here.
More pictures, stories can be found in the print edition of The Provost News, March 4, 2015 including:
• Rail Loading Terminal Expansion to Double Oil Shipments
• Hughenden Jets Lead Provost in Hockey Playoffs
• Town to Install New Water Plant Controls
• Employment/Careers
• STA Team Undefeated During Year;
First in Medal Championship Final
• Local Firemen Presented with Awards
• "Voyageur" Hosted by Canalta and Bodo Archaeological Society

Get more stories by subscribing to The Provost News? Click here.