Adventure in Art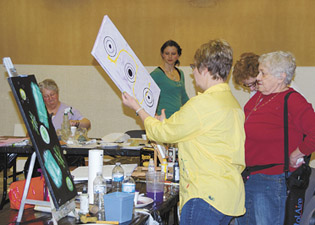 Sheila Klein of Provost holds up someone's piece of fresh art that had been worked on during a painting course on Saturday, January 17 in town. There were 13 students who were shown different techniques by Jill Sherring (walking, at back) in the Provincial Building. Another picture not shown here depicted the use of a squeegee during one of the creations. Featured that day was non-representational (a type of abstract) painting. The theme was urging the students to "loosen up their style" and get rid of past misconceptions of art, which "doesn't have to be realistic to be good art" points out Sherring who has a degree in visual communications. As well, painting does not have to be centred around a brush but also the squeegee and rollers, paint knives and other items that will make a texture, she said. Each student was able to take home three pieces of newly-created art. ©Provost News Photos.

Pictures inside the print edition of The Provost News, January 21.
Want to Subscribe to The Provost News? Click here.
Give Your Opinion on our website to this question:
Are you pleased or unhappy that more barriers are appearing for proposed inter-provincial pipeline projects in Canada?

More pictures, stories can be found in the print edition of The Provost News, Jan. 21, 2015 including:

• Spending on Building in Town Up 35% Over Previous Year
• Property Owners Risk $70 Bill if Snow Left on Sidewalk
• Employment/Careers
• Hughenden Jets Lead Hockey League
• New Pipelines Carry Crude South
• Ethnic Cuisine Cook-off held at church

Get more stories by subscribing to The Provost News? Click here.