Elevating His Game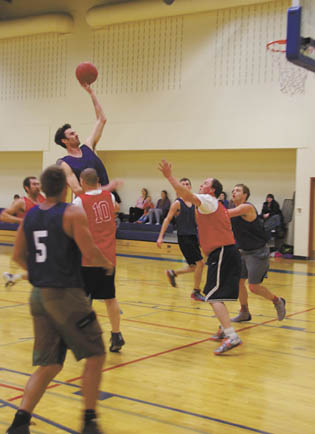 This left-handed basketball shooter from Eston, Sask. towers above Provost defenders on Saturday morning in town during a nine team invitational basketball tournament. Other teams competing February 14 and February 15 at Provost Public School and St. Thomas Aquinas School gyms were Unity, St. Albert, Vermilion, Elk Point, North Battleford and two teams from Lloydminster. Story in the printed edition. ©Provost News Photo.

See inside the print edition of The Provost News, February 18.
Want to Subscribe to The Provost News? Click here.
More pictures, stories can be found in the print edition of The Provost News, Feb. 18, 2015 including:
• 9 Teams Compete in Annual Men's Basketball Tournament
• $14 Million in Building Permits Issued by M.D. Over Year
• Hughenden Tops Regular Sr. Hockey League Play —Playoffs Next
• Consort RCMP Look For Provost Men After Robbery With Violence and Theft Reported in Altario
• Employment/Careers
• Early Days at Provost Pictured
• Chauvin Community Centre Gets Two Defibrillators
• Edgerton Legion No. 168 donates $900 to the Provost Health Centre

Get more stories by subscribing to The Provost News? Click here.