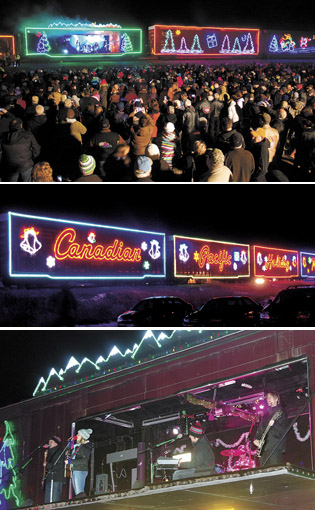 The Canadian Pacific Holiday Train rolled into Provost on late Monday afternoon, December 7 when an estimated 1,000 to 1,500 people showed up to hear live entertainment and to also make donations to the Provost Ministerial Food Bank. These photos show some of the 16 railway cars that were decorated and lit up by CP Rail in its annual run across Canada and the U.S. to help raise money for food banks. This is the first time the train stopped in Provost. Photo bottom shows the live band in action near. ©Provost News Photos.
See inside the print edition of The Provost News, December 9.
Want to Subscribe to The Provost News? Click here.
More pictures, stories can be found in the print edition of The Provost News, December 9, 2015 including:
• Used Clothing Store Sees Use Jump by 40%

• Private Business Generates Own Electricity to Power, Heat Entire Building
• Employment/Careers
• Edgerton Mayor Unhappy With Ambulance Plan
• 'Onerous Cost and Regulations' in Farm Safety Bill—MLA
• Provost RCMP Investigate More Thefts
• Some Wind Turbines Begin Spinning, Generating Power

Get details of these and other stories by subscribing to The Provost News Click here or call 1-780-753-2564.