Ducks Are Different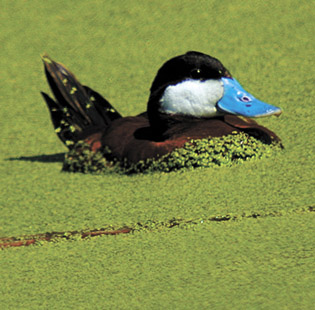 This Ruddy duck—sporting a bright blue bill, white cheeks, russet toned back feathers along with sections of black and motley brown was spotted in a slough south of Provost. According to a publication called Ducks Are Different, published 66 years ago by Francis J. S. Holmes of Winnipeg, though a small duck, it comes "out of a mighty big egg—almost as big as a turkey's—which, just to be different has Mother Nature's version of a stucco-finished surface. Ruddy ducklings won't feed on the surface, and from the very beginning start diving for their food. Maybe that accounts for their proficiency at diving, since an adult Ruddy can pop underwater almost as quick as you can wink, and often do it without throwing up more than a single drop of water in the process." The rigid tail can serve as a rudder while others believe that it can also be used as a sail to capture wind power. Although it can be abundant in summer, few people get a glimpse of the odd birds (oxyura jamaicensis). ©Provost News Photo.

See inside the print edition of The Provost News, August 5.
Want to Subscribe to The Provost News? Click here.
More pictures, stories can be found in the print edition of The Provost News, August 5 including:
• Provost Peewee Shooters First in Provincial Baseball Championship After Wild Extra Inning
• Enbridge Pipelines Gives $5,000 to Society
• Employment/Careers
• WW II Veterans Honored in Provost
• Bodo Cemetery Restoration Project Finished After Three Years of Work
• Archaeologist Peter F. R. Kirchmeir Conducts Sandhills Survey
• Two Photos Show Vandalism of Natural Gas Co-op Property Near Hayter.
• George Bernard Talks About Pension Pay

Get more stories by subscribing to The Provost News? Click here.