Making Waves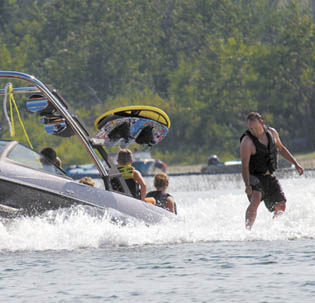 There was no ocean but still lots of motion as surfing a wake, generated behind this boat creates hours of wet entertainment at Dilberry Lake. Here owner Chris Werenka of Provost takes a turn but without a tow rope—balancing on his board while heading across the waters with Derek Graham taking the controls. Werenka later explained that the powerful Corvette engine is held to drive the craft at 11 miles per hour for optimum wave-making, while water for ballast is taken on for extra weight during the experience. This watercraft is busy all summer taking water enthusiasts for rides including those new to the sport who begin learning while holding onto a rope. ©Provost News Photo.

See inside the print edition of The Provost News, August 19.
Want to Subscribe to The Provost News? Click here.
More pictures, stories can be found in the print edition of The Provost News, August 19, 2015 including:
• Piranha Swimmer Brings Home Medals from Provincial Finals
• Provost Swimmers Win Gold and Silver at Provincial Meet
• Employment/Careers
• Flad Winning Outrider at Battle of Rockies
• Amisk 4-H Beef Club Member Tells of Provincial Judging Experience
• Roof Repairs Taking Place at School
• Team Alberta Captures 62 Gold, 85 Silver and 79 Bronze Medals at Western Canada Summer Games

Get more stories by subscribing to The Provost News? Click here.