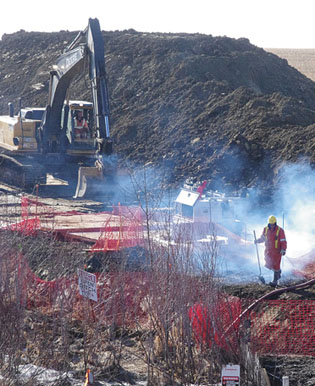 Workmen for Enbridge Pipelines can be seen in this photograph just south of Highway 13, 1.7 km west of the junction of Highways 13 and 41. Spokesman for the energy company, Graham White told The Provost News that "We are in the process of replacing a piece of line 13 that runs below Highway 13, approximately 340 meters as part of our regular integrity and maintenance program. The cut out and tie in of the new line happened last week (late March, 2015) and was successful. The work remaining on the project is to remove the existing pipe that was taken out of service, this work will happen later in the year once the weather is more favorable. Crews will be seen over the next week to backfill the majority of the trenches that were excavated to complete the tie ins." ©Provost News Photo.

See inside the print edition of The Provost News, April 1.
Want to Subscribe to The Provost News? Click here.
Give Your Opinion on our website to this question:
If a provincial election were held soon, what party would you vote for?
More pictures, stories can be found in the print edition of The Provost News, April 1, 2015 including:
• Chauvin's Dr. Folkins Community School Curling Teams Compete at Playoffs and Provincial Finals

• Hughenden Peewee Jets Win League Hockey Playoffs
• Employment/Careers
• Wheat Still Popular But Farmers Look to Substitute Canola With Other Crops
• Scholarships and Trophies Earned at Annual Music Festival
• Mischief at Rural Property Reported

Get more stories by subscribing to The Provost News? Click here.