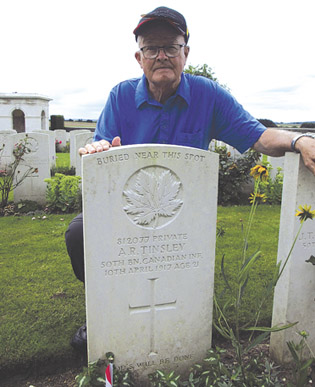 The family of Todd Bradley visited a cemetery near Vimy in France in early August and sought out graves of soldiers from the Provost and Cadogan area. Former Provost resident Ray Bradley is shown at the gravesite of Private Reg Tinsley, 21, who was killed in WWI on April 10, 1917. Other sites visited were of Rifleman Jacob Rehman, 32, who was killed at Juno beach; Corporal Carl N. Kjos, 25, at the Battle of Normandy and Private C. Wyett Swanson, 19, also at the Battle of Normandy. Todd Bradley stated that "The government takes good care of these cemeteries. Commonwealth graves allowed families to put inscriptions on the stones." He said a lot of the soldiers were "just young farm guys." Another picture, not shown here was printed with these cutlines: Ray Bradley overlooks part of where 1 million shells were fired in just one week prior to Canadian troops arriving at Vimy Ridge—there are still live rounds in some places on the grounds.

Pictures inside the print edition of The Provost News, November 5.
Want to Subscribe to The Provost News? Click here.
More pictures, stories can be found in the print edition of
The Provost News, November 5, 2014, including:

• Dip in Drilling —But More Jobs Being Created in Oil Patch
• Livestock Prices Continue 'Unprecedented' Climb—Cattleman
• Employment/Careers
• Haunted Halloween Houses Active at Czar and Ribstone
• Hughenden School Staff Being "Corrected"
• Surge Expects Growth
. . . More Provost Locations Yet to Develop

Get more stories by subscribing to The Provost News? Click here.