Heavy Fire Power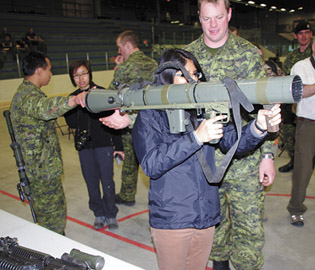 Journalism student Jasleen Singh of Ottawa's Carleton University hoists a Carl Gustav recoilless anti-tank rifle (a type of bazooka) in Provost. This weapon was used against Taliban defensive fortifications by soldiers of Princess Patricia's Canadian Light Infantry in operations in Afghanistan. Singh was one of several students from across Canada participating in a University of Calgary military journalism course while in Provost. Another photo (not shown here ) displays some of the blank ammunition also on display in the arena when troops were in the area conducting an exercise. ©Provost News Photo.

More pictures inside the print edition of The Provost News, May 7.
Want to Subscribe to The Provost News? Click here.
Also in the May 7, 2014 print edition of The Provost News:

• Energy East Pipeline Examined at Hardisty
• Fleeing Horse Lake Turns Pink. Again
• Employment/Careers
• Gibson Plans for More Storage at Hardisty
• Two Army Majors Are Interviewed During Exercise Here
• Provost Kinsmen Club Hosts Province-Wide Convention
• Tuscany Buys 'Significant' Sparky Acreage Near Macklin, Sask.

Get more stories by subscribing to The Provost News? Click here.