New Zamboni for Arena to be
Purchased by Surge Energy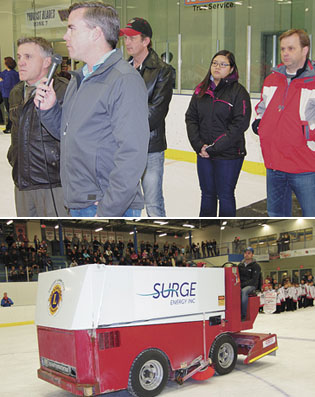 Town councillor for the Town of Provost, Dale Gregory (at far left) was among guests at the opening of the Peewee provincial hockey finals held in Provost on Friday afternoon, March 21. He said that Surge Energy Inc. of Calgary has agreed to buy the arena a new ice cleaning machine worth $130,000, to be paid over three years. Surge Energy Inc. representatives on the ice included John Webb (asset team lead west, of Calgary holding microphone); Malcolm Torpe (local superintendent); Amanda Chow (exploration engineer of Calgary); and Grant Gathercole (geologist, also of Calgary). The new Zamboni will be manufactured in California and is expected to be delivered before Christmas. The existing ice cleaning machine was shown with a new sign on it, in the other picture. ©Provost News Photos.

More pictures inside the print edition of The Provost News, March 26.
Want to Subscribe to The Provost News? Click here.
Also in the March 26 print edition of The Provost News:
• Chauvin Girls Best in Alberta Curling
• Employment/Careers
• Bentley First in Provincial Peewee B Hockey Action at Provost
• Town Council OKs Fire, Recreation and FCSS Budgets.
• Hughenden Jets and Hanna Phantoms Tied in Final Sr. Hockey Series
Get more stories by subscribing to The Provost News? Click here.