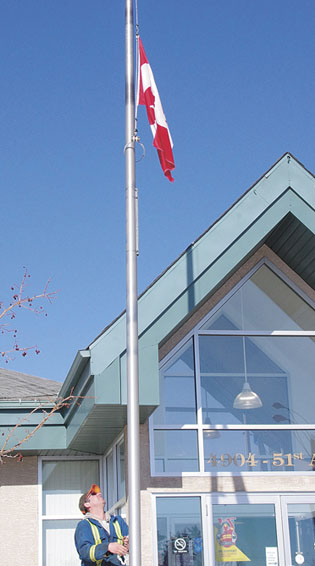 The last Canadian troops involved in the NATO training mission in Afghanistan board an American Chinook helicopter on March 12 (photo, not shown) as they leave the International Security Assistance Force headquarters in Kabul, Afghanistan. This picture shows town worker Jerrold Fleck raising the Maple Leaf back to the top of the pole in downtown Provost at noon since it had been lowered earlier the morning of Wednesday, March 12 in commemoration of the end of Canada's 12 year military mission. ©Provost News Photo.

More pictures inside the print edition of The Provost News, March 19.
Want to Subscribe to The Provost News? Click here.
Also in the March 19 print edition of The Provost News:
• Canadians Leave Afghanistan After 12 Year Mission
• Employment/Careers
• Grizzly May Have Investor For Alberta Potash Project
• More Exploration Could Target Lloydminster, Provost Areas
• Newalta recently made donations to the A.P.P.L.E. Center in Amisk. An automated external defibrillator)which is an emergency heart start device worth $3,000 will assist the school helping to ensure heath and safety of community members. Kevin Humeniuk, branch manager at the Hughenden Newalta site presented the donation to Buffalo Trail Public Schools trustee Benita Fossen.
• Hughenden Jets Knock Out Provost Combines—Advance to Final Series
Get more stories by subscribing to The Provost News? Click here.