Stopping and Checking for Impaired Drivers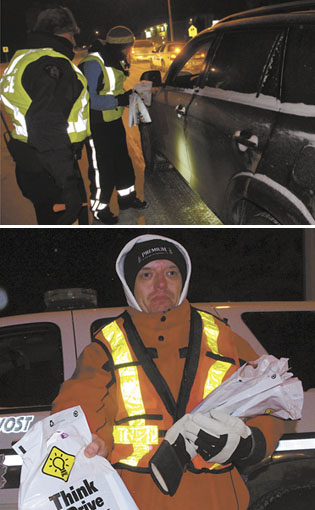 Approximately 75 vehicles were checked by police for signs of impaired drivers in Provost on the evening of December 20, 2013. One photo shows a stop north of the Agriplex. Helping to organize the Candy Cane Checkstop in Provost was Chris Ritchie (other photo) who is the Provost community leader for Mothers Against Drunk Driving. He said that in the two hour campaign 100 bags (containing a keychain, bookmark, Christmas treats and information about impaired driving) were passed out. RCMP said that five charges were laid that night out of the over 75 vehicles stopped. ©Provost News Photos.

More pictures inside the print edition of The Provost News, January 8.
Want to Subscribe to The Provost News? Click here.
In the January 8 print edition of The Provost News:
• Farmers Seek $17 Billion for Assets Including Grain Cars, Ships and Cash
• Employment/Careers
• For the 83rd consecutive year, The Provost News compiled and printed a summary of vital statistics of births, deaths, marriages and anniversaries as recorded in its just-completed year.
• Telus Spokesman Responds to Pudge's Column.
• Town Council Has Plenty of Business at Meeting

• Magnum Energy Selling Half of Provost Property for $5.6 Million
• RCMP Investigate Incidents
Get more stories by subscribing to The Provost News? Click here.