Relaxing Afternoon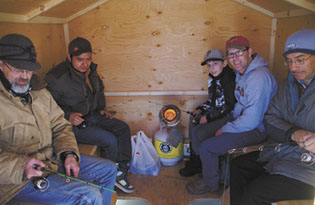 Camaraderie was enjoyed by these five people while trying their ice fishing luck on a Sunday afternoon in a heated shack over the frozen waters of Capt. Ayre Lake. From left: Kevin West (who had at the time of the picture caught 100 fish this season), Ricardo Rosas (originally of Mexico), Kody Lakevold, Darcy Lakevold and Antonio Herrera (also originally of Mexico). The lake is stocked with rainbow trout annually—which is "like eating really good salmon" says fisherman West who comes here almost daily, only a mile and a half from home. Another photo (not shown here) photo showed in the print edition one of the augered 14 inch thick ice holes where corn is lowered onto hooks in hopes of catching one of the fish that might weigh up to four pounds. Depth of the water here was 15 feet deep though there are spots in the lake where it reaches 40 feet. The ice shack season generally runs from December 1 to the end of February. ©Provost News Photos.

More pictures inside the print edition of The Provost News, January 29.
Want to Subscribe to The Provost News? Click here.
In the January 29 print edition of The Provost News:
• Number of Births at Health Centre Lowest in 7 Years
• Employment/Careers
• Dear Editor
• Consolidation of Sr. Housing Administration Considered
• Provost Girl Among 2,200 Athletes Heading to Banff-Canmore for Winter Games
• Babies of 2013 Are Pictured in Colourful Layouts
Get more stories by subscribing to The Provost News? Click here.