Checking the Integrity of Pipeline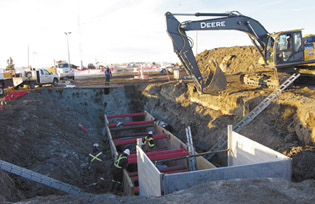 This picture was taken right beside Highway 13 as an inspection of the Enbridge main line was taking place by Ledcor. Men can be seen working in an excavated area while a piece of heavy equipment moves closer at right. Spokesman for Enbridge, Graham White told The Provost News that the integrity digs inspect for corrosion along the main line, which is the primary conduit of crude exports to the U.S. It runs from Edmonton to the Chicago area refineries with a capacity of approximately 2.5 million barrels per day. "It is actually made up of four (sometimes five) separate lines that run parallel and carry a variety of different crude products. Inspections of this type can take place along the line wherever our in-line inspection tool runs indicate to us they are required and number in the thousands per year on the main line. Remember we are talking four pipes that cover more than 3,000 kilometres. It is common to see this type of work along major transmission lines. It is general maintenance and upkeep." This specific line being worked on is called Line 4 and Enbridge expects it to be completed by the end of this week. Traffic was warned to slow down west of the intersection of highways 13 and 41 as this operation was taking place. ©Provost News Photo.

More pictures inside the print edition of The Provost News, January 22.
Want to Subscribe to The Provost News? Click here.
In the January 22 print edition of The Provost News:
• Building Permit Values Spike by 217% in M.D.
• Employment/Careers
• Dear Editor
• Chamber of Commerce Studies How to Achieve Goals
• Tuscany Places Successful Macklin Well on Production
• Gibson Energy Has Senior Management Changes
Get more stories by subscribing to The Provost News? Click here.