17 Teams Compete at Bodo's
Annual Disking Bonspiel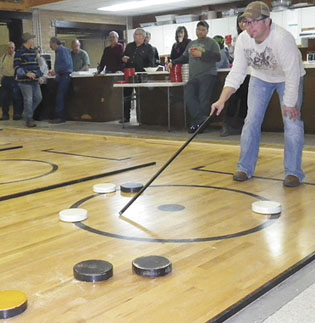 Curtis Ference of the Kirriemuir area places his stick on the floor indicating where he'd like the next disking shot to go at the Bodo hall as final games in an open mixed bonspiel were taking place. There were a total of 36 games said one of the organizers, Noel Wirachowsky of the annual event which featured 17 teams running from Sunday, February 2 (with supper) until February 4. League play is held from early November to the end of January for the Bodo participants. More pictures in the print edition. ©Provost News Photo.

More pictures inside the print edition of The Provost News, February 12.
Want to Subscribe to The Provost News? Click here.
In the February 12 print edition of The Provost News:
• Silver Medal Win for Volleyball Players at Winter Games;
5th For Archery Competitor
• Employment/Careers
• Dear Editor
• No Changes to Gas Co-op Board as Year-end Moving to Summer
• Another course is being taught in Provost to help babies and pre-schoolers communicate with their parents before two-way speech is developed.
• Disking Winners at Bodo Pictured
Get more stories by subscribing to The Provost News? Click here.