1500 Compete in Macklin's World Champion Bunnock Tournament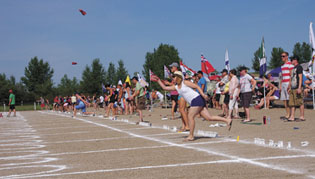 Bones were flying in the air on Saturday and Sunday, August 2 and 3 at Macklin during its annual World Bunnock Championship. There were 360 teams entered at this year's tournament with the Tiffany Kohlman team from Macklin emerging as the overall winner. Second place went to the Troy Baier team of Lloydminster-Macklin while third was awarded to the Tyler Mildenberger team of Provost. Co-ordinator of the event, Kim Gartner told The Provost News that $40,000 was paid out in prize money (first place took $2500). This was the 22nd year for the event, organized by the community's bunnock committee. And says Gartner, about the annual event—though they had rain and a 6 degree Celsius temperature their first year—they have never missed a game. Registration began on Friday and in conjunction with the event was also a fair and car show. There were 3,000 people attending the tournament each day it ran while 1500 competitors tested their skill. Gartner added that for the community it's a "huge fund- raiser" with local non-profit groups running booths and events including non-profits in Macklin as well as a school in Provost. An estimated 1,000 volunteers are needed to run the annual games weekend. "It's a good family event." ©Provost News Photos.

More pictures inside the print edition of The Provost News, August 6.
Want to Subscribe to The Provost News? Click here.
Also in the August 6, 2014 print edition of The Provost News:

• New Rail Terminal Begins Shipping Crude Oil

• Town Council OK's Road, Sidewalk Upgrades

• Employment/Careers • Area Has Nearly 5,000 Lightning Strikes in Year

• $40,000 in Bunnock Prize Money at Macklin

• More Drilling Planned For Oil Patch

• WWI Centennial Marked by Canadians

Get more stories by subscribing to The Provost News? Click here.