Iced Water Makes for Challenging Situation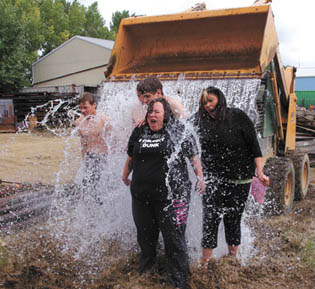 These people who all work at Buckin' Good Welding in Provost found out how refreshing an ice-cube infested bucket of cold water—measured as 4 degree Celsius—feels on a warm summer day as Wacey Manning was at the controls and dumped this load onto them. The Ice Bucket Challenge event was held to help raise money and awareness for amyotrophic lateral sclerosis (ALS)—also known as motor neurone disease. As part of the event, one of the staff first read a message aloud stating that they support the cause by donating $500 and in turn were challenging local business operations MRC Midfield, the Buckin' Good Welding sub-contractors, Withers and staff and sub-contractors as well as Maverick Oilfield Services. Taking the noon hour bath were, from left: Gabe Paulgaard, Ian Bali, Jerry Lakevold, Stephanie Froland and Destiny Meyer. ©Provost News Photo.

Pictures inside the print edition of The Provost News, August 27.
Want to Subscribe to The Provost News? Click here.
More pictures, stories can be found in the print edition of
The Provost News, August 27, 2014, including:

• New Electric Line Would Strengthen Grid

• Teachers Hired For New Term

• Employment/Careers

• Local Women on Canadian Championship Fast Pitch Team

• Water Supply Valves Wearing Out

• Vacation Bible School Popular

• M..D. 52 Helps With Projects

Get more stories by subscribing to The Provost News? Click here.