Shooting for the Moon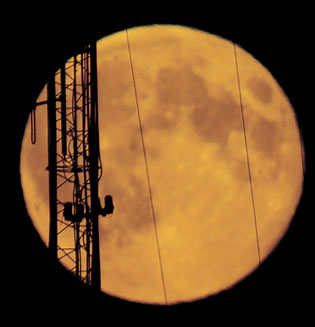 The Moon—seen with a communications tower in front, just east of Provost reaching skywards on Sunday night, August 10 —shows up larger than normal because it was relatively close to Earth. NASA's Science News reported that the Moon on Sunday was the biggest and brightest of the year, calling it a supermoon. The bright full Moon was estimated to be 14 percent closer and 30 percent brighter than other full Moons of the year. NASA also less than a week earlier reported that after a decade-long journey chasing its target, the European Space Agency's Rosetta probe, carrying three NASA instruments, became the first spacecraft to rendezvous with a comet, 67P/Churyumov-Gerasimenko. ©Provost News Photo.

More pictures inside the print edition of The Provost News, August 13.
Want to Subscribe to The Provost News? Click here.
Also in the August 13, 2014 print edition of The Provost News:

• European Trade Deal Can Create Opportunities for Provost Area Farmers and Oilfield Equipment Business, Says MP

• Richardson Loads First Vessel of the Season at Port of Churchill • Employment/Careers • More Rain for Crops Compared to Last Year

• Auditor General Studies Expenses of the Office of Premier Redford and Alberta's Air Transportation Services Program

• Judges for Communities in Bloom, Doug Hornbeck of Ellerslie and Ken Willis of Stony Plain had the Provost and District Museum on their list as part of their inspection of the community on Thursday, August 7. They are seen in the newspaper at one of the outbuildings on the museum grounds—the blacksmith shop, which had a variety of tools nearby including an anvil, a wooden mallet as well as a container with coal and cinders and other miscellaneous tools. The pair also toured a church, two schoolhouses, a bachelor's residence and a 1917 house on the grounds. Other local tours, a luncheon and a supper were held for the two men. Hornbeck said that evening they felt "very welcome here" while Willis added that the tour provided was "very well organized."

• Ag. Minister Says Asia Holds 'Great Opportunities'

Get more stories by subscribing to The Provost News? Click here.