Mobilizing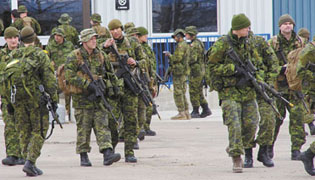 Dozens of Canadian troops were on the move near the arena in Provost after it was taken over by members of the Third Battalion, Princess Patricia's Canadian Light Infantry. Capt. Austin Richardson said that approximately 400 troops are using Crescent Point Place as the forward operations base of an exercise called non-combatant evacuation operations (NEO). The Edmonton-based infantry are conducting an operation that simulates getting Canadian citizens out of a foreign country that is de-stabilizing. The men and women each get one fresh meal per day as well as their regular military rations. While these troops were mobile, others rested inside while others (not seen here) maintained a 24 hour guard outside of the building and allowed only those with permission to get onto the grounds. Many of these troops have served in Afghanistan. More photos in the print edition. ©Provost News Photo.

More pictures inside the print edition of The Provost News, April 30.
Want to Subscribe to The Provost News? Click here.
Also in the April 30, 2014 print edition of The Provost News:

• Aaron Christensen of Metiskow on Winning International Snowmobile Endurance Team—Again
• Alberta Farmland Values Up Nearly 13 Percent • Employment/Careers
• Town to Opt Out of Plan With Other Fire Departments and MD as New Safety Codes Coming
• MLA Asks Legislature About Health Care in Consor
• Students Get Olympian for Mentoring

Get more stories by subscribing to The Provost News? Click here.