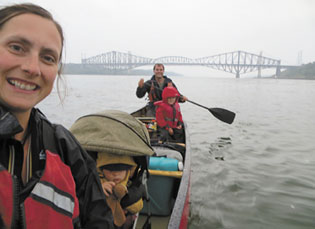 Former Provost resident Pam MacDonald (left) along with husband Geoff recently completed a cross-Canada trip by canoe (self-photo, above at Quebec City). Their two young children Rane and Jude appeared to experience part of the national adventure. The pair logged 9,500 kilometres on water. Family members Pak and Allyson Wong were among others on hand to congratulate the paddlers in Eastern Canada who left here almost seven years ago. A photo from The News front page dated November 29, 2006 was re-printed as they prepared for their trek on what they thought would be a four year adventure. Details in this week's printed paper.

More details in the print edition of The Provost News, October 2.
Want to Subscribe to The Provost News? Click here.
In the October 2 print edition of The Provost News:

• Edmonton Wins Football Game Here
• Employment/Careers
• Town Won't Pay Flooding Claims
• Schools Walk for Terry Fox Foundation
• Money Raised After Provost Woman Has Stroke
• Men and Women Running for Municipal Seats
Get more stories by subscribing to The Provost News? Click here.