Out of Country Experience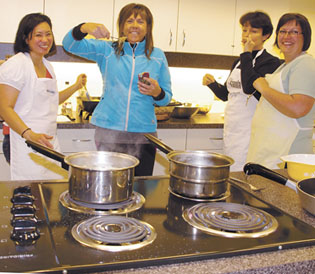 A Filipino cooking class was held at the Provincial Building when teacher Lai Camancho (left) who is originally from the Philippines but now lives here, showed how to prepare two dishes. Taking in the Eastpark Educational Opportunities Council evening class on October 30 were Sherry Gagné, Ruth Holmes and Charlene Paulgaard (far right). The women got to eat some of the pork, chicken, shrimp and noodle creations (left) and took the balance home. On November 6, Korean cooking was being offered with a different teacher. ©Provost News Photo.

More pictures inside the print edition of The Provost News, November 6.
Want to Subscribe to The Provost News? Click here.
In the November 6 print edition of The Provost News:

• MP Wants Quick Delivery of Record Crop;
Better Track Here Means Faster Trains: CP
• Employment/Careers
• $1.6 Billion Enbridge Extension Pipeline Will Connect to Hardisty Hub in Provost M.D.
• 6,555 Wells to be Drilled in Alberta—2014 Forecast
• Petroleum Group Announces New Fracking Code of Conduct

• People Take in Safe Harbours Diversity Program
• New M.D. 52 Council is Pictured
Get more stories by subscribing to The Provost News? Click here.