Easy to Assemble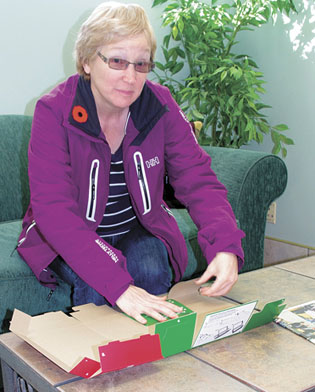 Melanie Murray of Provost demonstrates how to prepare an Operation Christmas Child shoebox. There are three depots in town that will supply anyone with the boxes to be filled for less fortunate people this year. ©Provost News Photo.

More picturesinside the print edition of The Provost News, November 13.
Want to Subscribe to The Provost News? Click here.
Poor Children to Benefit From Annual Shoebox Campaign
A drive to help poor children in other parts of the world is taking place in the Provost area again this year.

Local resident Melanie Murray is once more organizing the annual campaign with the public's participation to help supply poor children in six countries with gifts and supplies before Christmas.

The deadline to send the Operation Christmas Child packages is only one and one half weeks away—on November 24.

The operation in Canada is overseen by Samaritan's Purse which works in dozens of countries to provide aid to victims of war, disease, disaster, poverty, famine and persecution.

People are being asked to fill locally supplied shoeboxes which can be picked up and after filling, dropped off at Hall's Foods, Provost Bowling Centre, Bumper to Bumper (Macklin) and The Provost News.

In 2012 there were 417 boxes filled locally. Worldwide Operation Christmas Child has collected 103,720,570 shoeboxes since 1993.

Last year across Canada, 662,312 shoeboxes were collected, down approximately 10,000 boxes from the previous year.

The children that will receive packages from Alberta this year live in Costa Rica, El Salvador, Nicaragua, Venezuela, Haiti and Ivory Coast.

Other countries participating in the humanitarian project are Australia, New Zealand, Germany, Austria, Switzerland, Finland, Spain, the United Kingdom, Ireland and the United States of America. Shoebox gifts collected worldwide in 2012 were 9,039,060
Samaritan's Purse has supporters like Murray or with organizations (often churches) here and abroad to provide compassionate and cost-effective assistance to anyone who needs it, regardless of religion, race, gender or socio-economic standing.




Also in the November 13 print edition of The Provost News:
• Farmer Loses Shop For Third Time on Same Spot
• Employment/Careers
• Boy Earns Silver Medal in Provincial Track
• Tributes Made to Veterans During Remembrance Day
• Surge Has $76 Million Crude Oil Acquisition at Wainwright

• Husky Energy Marks 75th Anniversary With Donation to Provost Hospital
• Fathers These Days Take a More Active Role in the Birth of Their Babies, Says Columnist Lucie Trutnau.
Get more stories by subscribing to The Provost News? Click here.