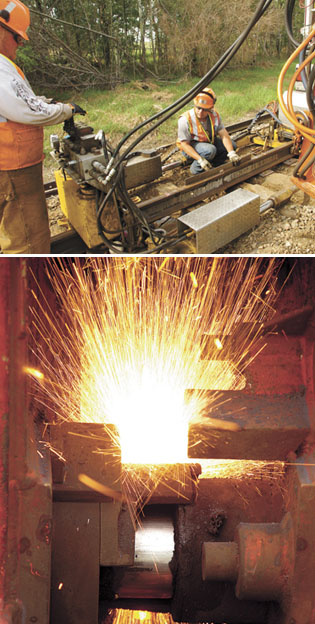 Top photo: Jared Stevenson (left) helps Mark Roebuck, operator of a special welding unit working on the CPR near Provost during May as a new piece of track gets prepared to be put down. Both of the men are from Yorkton, Sask. Roebuck, who works for Chicago firm Holland, was (earlier and later) fusing the new steel lines using electricity during a system called flash-butt welding (bottom photo). The CPR work crew now at Provost is one of the largest railway work gangs operating in Canada. More photos in the May 29, 2013 edition. ©Provost News Photos.

Photo in May 29 edition of The Provost News.
Want to Subscribe to The Provost News? Click here.
More Crude Oil Pumped from Vast Provost Field

Get the story in the May 29 Provost News print edition.


Also in the May 29 print edition of The Provost News:
• Employment/Careers
• Truck Stolen
• Pudge Talks About Bicycles
• 6 People Arrested as 18 RCMP Officers Part of Raid
• Thinking Out Loud Columnist Lucie Trutnau Looks at Televisions Shows of Yesteryear
• Chauvin School Honours 12 Students at Graduation
Get more stories by subscribing to The Provost News? Click here.