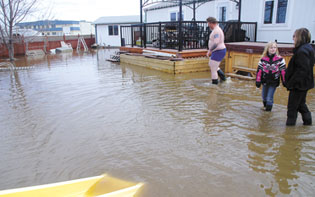 Flooding appeared in the southeast area of Provost on Sunday, April 28 after water went over top of Highway 13 and then over a town road beside the fire hall. Three or four yards were filled with water including this one above as residents Arlin Grove along with nine year old Rikell and mom Wynette look the situation over. Neighbour John Ratzlaff said that he was told his house insurance does not include flooding. The Town of Provost brought in men and pumps to help lower the water level that culverts had difficulty keeping up with. More pictures in the May 1, 2013 print edition. ©Provost News Photo.

Photo in May 1 edition of The Provost News.
Want to Subscribe to The Provost News? Click here.
Hospital Auxiliary Celebrates 60 Years of Service to Community
Estimated $200,000 Raised to Donate Equipment for Hospital

Get the story in the May 1 Provost News print edition.


Also in the May 1 print edition of The Provost News:
• Employment/Careers
• 17 Potash Cars Derailed West of Town
—Line Cleared in 25 Hours
• Pudge's View
• Guiders Receive Centennial Awards
• Thinking Out Loud
• More Drilling Planned for Alberta
Get more stories by subscribing to The Provost News? Click here.