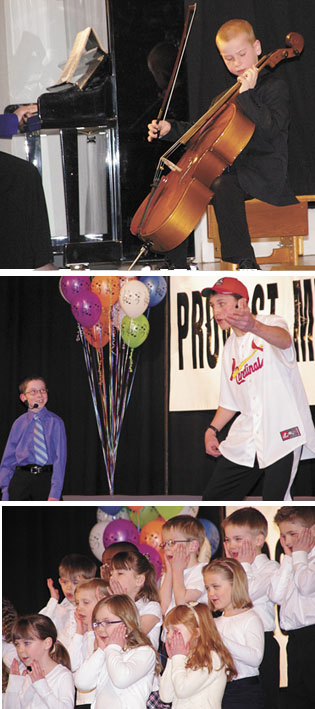 The annual Colour Night was staged by the Provost and District Music Festival Association on Saturday night, March 23 at Prairie Hall. Above are a few of the performers on stage that night. ©Provost News Photos
Top photo: Stratton Waltz, performs Rigadoon, a string solo.
Middle photo: Rogan Coffey (left) aggravated David Erasmus with this funny speech duologue performance of Who's On First?
Bottom photo: How Dry I Am was performed by the STA Kindergarten in the choral speech category.

Photos in March 27 edition of The Provost News.
Want to Subscribe to The Provost News? Click here.
Colour Night in Provost (photos on left)

Get the story in the March 27 Provost News print edition.


Also in the March 27 print edition of The Provost News:
• Stettler Wins Provincial Hockey Gold in Provost With 1.9 Seconds Left in 3rd Period
• Employment/Careers
• Hughenden Bantam Jets Hockey Club Take Silver at Provincial Finals in Claresholm
• Pudge's View
• 289 Entries at Annual Music Festival
• Thinking Out Loud
• Storm Meant Short Week For Rural Students
Get more stories by subscribing to The Provost News? Click here.