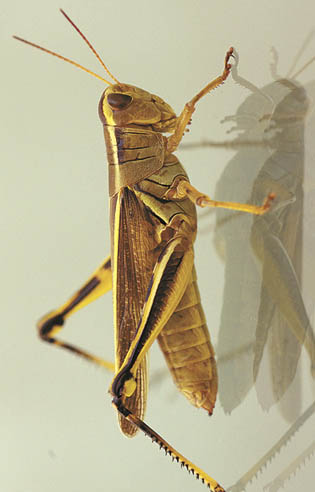 This grasshopper appears to be lost as he makes his way slowly to the top of the glass front door at The News office instead of munching on some farmer's crop. Grasshoppers are not a problem in the area this year, says Darrell Huber, manager of Richardson Pioneer, though he noted that one farmer said there were a few 'hoppers in one area of his land. No wide-spread spraying for the pests is expected to take place because of the wet spring. Grasshoppers eat grass, leaves and cereal crops, but many grasshoppers are omnivorous. ©Provost News Photo.

Photo in August 7 edition of The Provost News.
Want to Subscribe to The Provost News? Click here.
In the August 7 print edition of The Provost News:

• Employment/Careers
• Provost Pilots Baseball Team First in Alberta Finals
• TransCanada's $12 Billion East Pipeline Will Run Near Provost
• Girls' Team Wins Bantam D Provincial Championship
• New Physician Moves Here from Nanaimo, B.C.
Get more stories by subscribing to The Provost News? Click here.