Airspray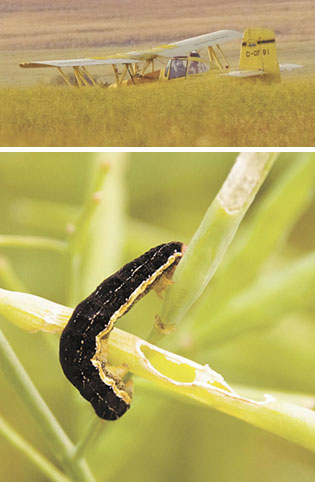 Bertha armyworms like to munch on canola crops—but farmers often spray them using conventional methods or sometimes hire an aircraft loaded with chemicals to control the pests. This photo shows pilot Ben Loree of Nanton, Alberta working a field three miles east of Provost right beside Highway 13. In this photo the telephoto camera lens compresses the images of the canola and airplane as it dips to make it appear as if the pilot is landing in the canola—though he didn't slow down at all and continued his concentration and the plane's power to lift up—bank sharply and return over the field again. Loree told The Provost News that on each restocking of chemical at the airport he takes on 280 gallons of spray. Other photo shows a bertha armyworms eating some of the local crops. A day after the spraying many of the worms were dead in the field. ©Provost News Photos.

More details in the print edition of The Provost News, August 28.
Want to Subscribe to The Provost News? Click here.
In the August 28 print edition of The Provost News:

• Team Saskatchewan Best in Western Canadian Baseball Finals
• Employment/Careers
• No Rat Infestations, Ag. Service Board Hears
• $19,000 Worth of Valves Are Stolen From Oil Site
• Teachers Hired For New School Term
• Golf Winners Are Pictured
Get more stories by subscribing to The Provost News? Click here.