Current Events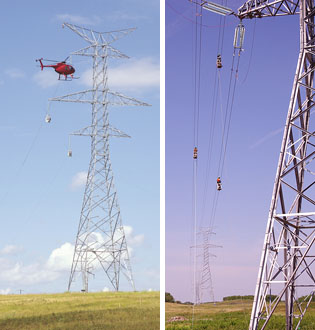 British Columbia helicopter pilot Matt Larocque positions his helicopter unit sideways, close to one of several new electrical towers while at the same time threads heavy cable through a pully system—placing it in the centre of three possible metal tracks before moving onto another structure 24 kilometres west of Provost . The new AltaLink transmission power project that will link to the Hansman Lake substation five kilometres north has been worked on for several months (see PN April 10). Other photo shows some of the work taking place on August 14 when three men climbed one of the 160 foot tall towers to hook up and then get in a "spacer car" which they then manoeuvered along the cables towards the next transmission tower. The new line will help reinforce the electric system to meet demand for power in this area. The Hansman Lake project (one of three portions of AltaLink's Hanna Region Transmission Development) is approximately 21 kilometres long and goes from AltaLink's Hansman Lake substation to an ATCO Electric transmission line. That line continues to ATCO's Pemukan substation. Collectively, all the projects that are part of the Hanna development will meet growing demand for electricity in central Alberta and will also help connect increasing wind-generated power in the region. The capacity of the transmission line is 240 kV (240,000 volts) and the overall project cost is estimated to be $100 million. Electricity was expected to begin flowing over the local towers on Tuesday, August 20 according to AltaLink spokesman Peter Brodsky. ©Provost News Photos.

More details in the print edition of The Provost News, August 21.
Want to Subscribe to The Provost News? Click here.
In the August 21 print edition of The Provost News:

• Swimmers Bring Home Medals From Provincial Finals; One Girl Earns 6 Medals.
• Employment/Careers
• Sidewalks Torn Up
• RCMP Look For Man After Incident on Main Street

• Communities in Bloom Judges Tour Denzil and Area
• Provost Gets Ready for Western Canadian Baseball Finals
Get more stories by subscribing to The Provost News? Click here.