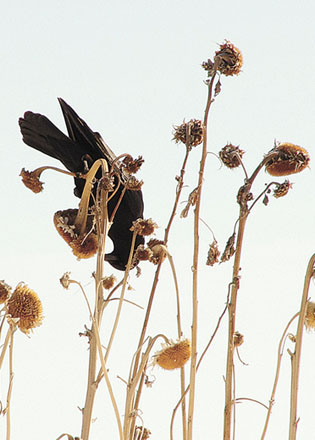 Birds, including this crow seemed to have their world turned upside down, at least for a little while as nature supplied limited feeding options this spring, like sunflower seeds. ©Provost News Photos.

Photo in April 24 edition of The Provost News.
Want to Subscribe to The Provost News? Click here.
Teenage Cowboy Invited to Compete in Major Event at Calgary Stampede

Get the story in the April 24 Provost News print edition.


Also in the April 24 print edition of The Provost News:
• Employment/Careers
• M.D. Sells Surplus Equipment, Deals With Other Business
• Pudge's View
• Town Sells Two More Industrial Lots; OKs Football on Soccer Field
• Thinking Out Loud
• Provost Health Care Centre Receives Donations
• Country Musician Tenille Nadkrynechny of Grande Prairie Sings, Inspires Students at PPS Presentation
Get more stories by subscribing to The Provost News? Click here.