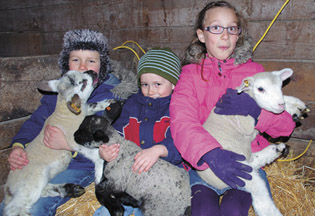 Three lambs, all only four days old get an audience with three youngsters who have their hands full at their grandparents' residence where Bernie and Maivis Livingston keep busy eight kilometres northwest of Provost. The siblings are from left: five year old Haiden who holds Freida; three year old Jaison is with Mindy and seven year old Maigan Livingston has Fred. This is the third lambing season for the Livingstons who recently sold shorn wool to a wool growers' association. They have 12 ewes, one ram and expect 10 more of their Suffolk cross breed ewes to lamb this month; they also look after turkeys, have 45 chickens, two roosters, some ducks and one quail. ©Provost News Photo.

Photo in April 17 edition of The Provost News.
Want to Subscribe to The Provost News? Click here.
Wild Boars Not Big Problem in Alberta—But Potentially 'Serious'
It's Hog Wild in Texas: 'We Don't Need a Hotline, They Are Everywhere'—Expert

Get the story in the April 17 Provost News print edition.


Also in the April 17 print edition of The Provost News:
• Employment/Careers
• Western Canadian Baseball Finals to be Staged Here
• Pudge's View
• Deer in Varying Degrees of Health
• Thinking Out Loud
• Country Musician Tenille Nadkrynechny of Grande Prairie Sings, Inspires Students at PPS Presentation
Get more stories by subscribing to The Provost News? Click here.