Preventive Maintenance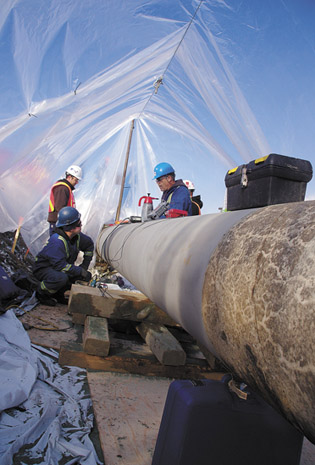 These workmen in a covered trench begin a closer inspection of a portion of an Enbridge pipeline a few miles north east of Czar as part of a preventive maintenance program. An electronic "pig" earlier travelled inside this pipeline examining the integrity of the steel. The sophisticated monitoring device searches for possible tiny cracks, corrosion or defects which would be logged and then studied by technicians who dispatch others to the exact location in the line where a problem could develop. This is one of 40 digs now being conducted from this Czar site to Cactus Lake, Sask. which includes approximately 50 pipeline miles being managed from temporary field offices in Provost. Willbros is the general contractor for the work who have 78 people on the job including sub-contractors who are now based in Provost. Enbridge has eight daily craft inspectors along with Dustan Volk of Kerrobert (top left, white hat) who is the chief inspector for this project. The digs are scheduled for completion by December 15. After examining what the electronic monitor has flagged for this pipe, if repair is needed then a steel metal sleeve will be placed over the piece of pipe and welded into position for fresh strength. At this site on October 26 there were three workers from Willbros, one from Enbridge and two from Acuron. Other similar Enbridge prevention programs continue across Canada. ©Provost News Photo.

Photo in October 31edition of The Provost News.
Want to Subscribe to The Provost News? Click here.
In the October 31 Provost News print edition:
High Definition Video Cameras to be Installed in Busses


Also in the October 31 print edition of The Provost News:
• Hughenden Lions Make Donation
• Perspective Needed on Arctic Ice Melt, Says Scientist Tim Ball.
• Girls Hockey Teams Battle it Out Here
• Czar Skating Rink Transformed for Halloween
Get more stories by subscribing to The Provost News? Click here.