This Isn't So Hard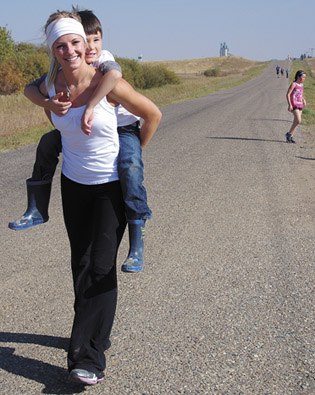 Grade One student, Harrison Viksush hitched a ride during this year's Terry Fox school run on the outskirts of town on Thursday afternoon, September 27. Teacher Amber Miller didn't seem to mind the extra challenge during the annual event. STA reported raising $8,079 for the Marathon of Hope cause that Terry Fox began 32 years ago. He died from cancer before he could finish his coast to coast run. Other pictures in this paper. ©Provost News Photo.

Photo in October 3 edition of The Provost News.
Want to Subscribe to The Provost News? Click here.
BluEarth Files Development Permit Applications for Wind Project
A Calgary energy firm called BluEarth Renewables Inc. has made an application for development permits to construct 27 wind turbines in the north east corner of the MD Provost No. 52.

The balance of the proposed total 46 turbine wind farm project will be in nearby Wainwright M.D. just to the north.

The information for 27 turbines and associated electrical collector and access roads within the MD of Provost was sent to the M.D. of Provost No. 52 in a letter dated September 17.

M.D. 52 councillors approved re-zoning some agricultural land north of Hayter following a public hearing held Thursday, September 13 at the M.D. of Provost No. 52 council chambers in Provost (see PN September 19).

For more of this story, see the print edition of The Provost News, Oct. 3, 2012.
Also in the October 3 print edition of The Provost News:
• Macklin Joins Sr. Hockey League
• Fresh Watermelon Tastes Good
• Olympian Sees Ex-Teammates
Get more stories by subscribing to The Provost News? Click here.