School Life is a Ball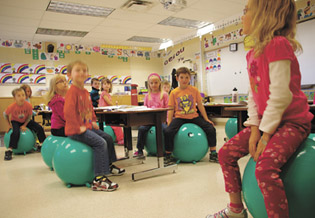 Some of these Grade 1 students at Provost Public School appear to turn into a blur as they bounce up and down on their new ball chairs during class time. The chairs are designed to improve fine motor skills, posture, balance, co-ordination, flexibility, core strength and blood flow. The manufacturer states that each of the balls—which are inflated by an air compressor—can hold up to 880 pounds (400 kg). The round green chairs include four little legs on the bottom for stability. And yes, the teacher has one in front of her own desk as well. ©Provost News Photo.

Photo in October 24 edition of The Provost News.
Want to Subscribe to The Provost News? Click here.
In the October 24 Provost News print edition:
Burglars Steal Cash During Night


Also in the October 24 print edition of The Provost News:
• Provost Honoured in Provincial Competition
• Football Team on the Field
• Council Looks Into Renovation at Centre
• Remembering the old Alberta Liquor Control Board
Get more stories by subscribing to The Provost News? Click here.