Working On the Beaten Track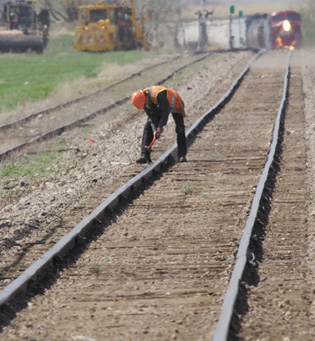 A man working on the railway does some adjustments with a tool while a slow moving freight train near the west crossing in town inches towards him. The Canadian Pacific Railway employee—who kept an eye on the train was among others (some with heavy equipment) who have been performing maintenance on the main line tracks. Recent strike action at CP Rail has meant interruptions in the operation of the national railway. ©Provost News Photo.

Photo in May 23 edition of The Provost News.
Want to Subscribe to The Provost News? Click here.
Also in the May 23 print edition of The Provost News:
• Fewer Farms in Alberta and Saskatchewan
• M.D. Holds Two meetings
• Money Turned Over to Handi-van
• Volunteer Group Makes Purchases for Hardisty Hospital
Full story in May 23 edition of The Provost News.
Want to Subscribe to The Provost News? Click here