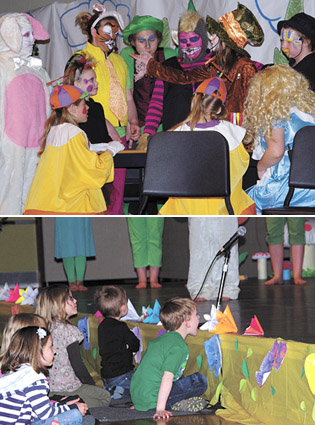 This colourful cast of characters met on stage during a play called "Alice in Wonderland Jr.", performed on Wednesday night, April 25. Bottom meanwhile shows some who didn't miss much of the Provost Public School drama club's presentation since they had ring-side seats. Last year the club presented "Pirates! The Musical." ©Provost News Photos.

Photo in May 2 edition of The Provost News.
Want to Subscribe to The Provost News? Click here.
May Will be Busy for Training Firemen
The Provost fire training centre will be busy this month, says fire chief Barry Johnstone.

There will be training sessions offered for firemen in this area and beyond for practicing with situations involving hot gases and smoke.

Three weekends have been pencilled in for the volunteer regional firemen (covering an area roughly from Camrose, Minburn and Vegreville to Castor and Coronation). The first two live fire weekend sessions will deal with combatting interior fires while the other training session will be a study and practice of fighting liquified petroleum fires.

After those sessions more training will be offered for the June 1 weekend and then some more training in September, adds Johnstone.

Meanwhile at the training centre behind Provost's fire hall some ground work has taken place to pour a cement pad within a few weeks which will be used when practicing extrication exercises. Also new at the centre will be a ventilation roof to soon be installed as part of fire training (picture in this paper).

The fire department as well is adding a new truck which will soon be on display. The one ton with tank and high pressure pump and nozzles will be used for "quick response" on grass fires.

When asked about when fire bans are in place Johnstone points out that propane barbecues are allowed —though not briquet fueled barbecues nor fire pits. Though no wood burning appliances are allowed, propane heaters are fine to use outdoors.

Provost and Cadogan firemen were recently called to the Cadogan corner beside Highway 13 when an insulator on a power line caused a fire. The April 23 fire was put out after approximately 20 acres of farmland was burned.

Full story in May 2 edition of The Provost News.
Want to Subscribe to The Provost News? Click here