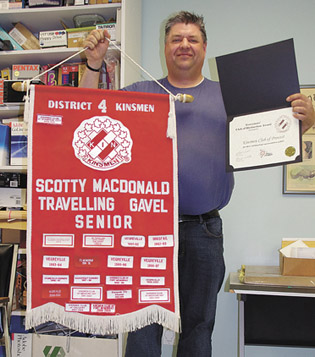 Local Kinsmen member Rich Dieser shows off two awards that the volunteer service club recently earned. One was the Governor's Club of Distinction while the other was for the amount of travelling made by club members. Story above. ©Provost News Photo.

Photo in May 16 edition of The Provost News.
Want to Subscribe to The Provost News? Click here.
Kinsmen Club Earns Two Awards
• Donates 5,000 Hours; $56,000 This Year
Two awards won at the provincial level are being celebrated by the Kinsmen Club of Provost.

Six members of the club took in a District 4 (Alberta-wide) meeting in Red Deer on May 3 to 5 when Provost earned—for the second year in a row—the Governor's Club of Distinction.

Rich Dieser who is secretary of the local club said in an interview that the governor's award recognizes clubs "that are doing everything right for Kinsmen . . . and above and beyond". Four such awards were presented to clubs across the province.

Dieser says the award took into account Provost's growing membership and its successful projects and enthusiasm in the volunteer club (for last year's story see PN May 25, 2011).

Ken Berry is president of the 24 member Provost organization.
The six Provost Kinsmen who attended the provincial meeting were Berry, Dieser, Steve Charron, Colin Booker, Kevin Grosh and Dallas Becker.

The men also brought home an award for the amount of travelling done by a club.

Provost received the recognition because its members logged approximately 16,000 kms this year though the actual number was likely closer to 18,000 kms in a year, pointed out Dieser.
They were awarded the Scotty Macdonald Travelling Gavel (senior award presented for those with over 15 members) which Provost won before in 1989-90.
Full story in May 16 edition of The Provost News.
Want to Subscribe to The Provost News? Click here