Looking for Take-out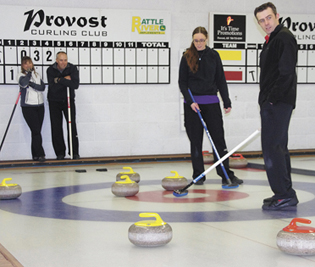 A mixed curling bonspiel ran from Tuesday to Sunday at the Provost Agriplex and here some strategy was being drawn up for those with the next rock to send down the ice. The winners of each event was: the Chris Werenka team (first event), Wes Gillies (second event), Levi Paulgaard (third event) and Trevor Ens (fourth event). The bonspiels in Provost are now over for the season. The mixed league curling final was held on Monday night, March 26 and the ice plant in the Agriplex was shut down after that action. Clean-up began on Thursday night, March 29 after the ice melted. ©Provost News Photo.

Photo in March 28 edition of The Provost News.
Want to Subscribe to The Provost News? Click here.
Atoms, Bantams Lose Out at Provincial Hockey Finals
Two more Provost teams were beaten out during recent provincial minor hockey action.

The Provost Bantams club, ages 14 to 15 was competing in Hythe from March 23 to 25.

In their first game against Spirit River, Provost lost 5-3.

The second game was a tie against Foremost— 2 to 2.

In the third game Provost beat Marwayne 10 to 1.

Provost then lost in the semifinal playoffs 2 to 1 against Redwater. Spirit River won first place in the tournament, defeating Redwater 8 - 5.

• Award for Provost Team
The Provost hockey club however did win the "Playsmart Award" which was for demonstrating the most sportsmanship throughout the hockey weekend.

Meanwhile the 10 and 11 year olds on the Provost Atom Tier 1 hockey team competed in Blackfalds March 23 to 25.

Provost lost to Ponoka 15 - 2; were beaten by Didsbury 2 - 0 and then lost to Gibbons-Bon Accord 9 - 6.

Full story in March 28 edition of The Provost News.
Want to Subscribe to The Provost News? Click here