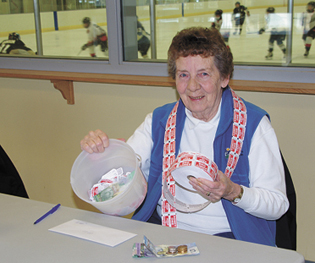 Cash on the barrel head will get you an arm's-length of tickets for a chance to win the 50-50 draw—just ask Betty Varty—before she asks you at the Blades home hockey games all winter long. The Provost volunteer has been near the ticket wicket in the old arena and new one to sell rolls of chances for 18 straight years. Here she was getting practiced up at a minor hockey provincial game on Friday morning—but there was a senior hockey game on that night—and she was there. ©Provost News Photo.

Photo in March 21 edition of The Provost News.
Want to Subscribe to The Provost News? Click here.
New Welcoming Group to Meet Here Next Month
"What can we do for you?" is what town councillor Kelly Heinrich will ask people moving to the community of Provost.

Heinrich is in the process of forming a "Welcoming and Inclusive Communities" committee. The first meeting will take place early April followed by at least one meeting a month.

There are now five people on the new committee but more volunteers are being looked for. There are church, Family and Community Support Services and chamber of commerce representatives, town councillor (Heinrich) and a member from the community.

The committee's purpose is to "try to make Provost a better place for people moving here" said Heinrich. They will look into what they can do to make people more welcome which may include workshops, cultural education and information packages regarding where to phone for utility hookups, activities, businesses, and so on. Each person's or family's needs will vary depending on the circumstances but the plan is to make everyone an active part of the community, said Heinrich.

The Alberta Urban Municipalities Association is in partnership with the Alberta Human Rights Commission and the Human Rights and Citizenship branch of Alberta Culture and Community Spirit to create the welcoming program.

Full story in March 21 edition of The Provost News.
Want to Subscribe to The Provost News? Click here