Skateboarders Clean up Graffiti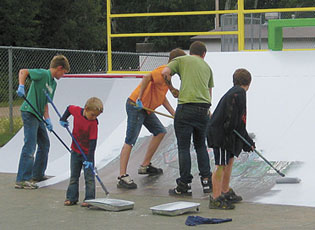 A group of young volunteers painted the skate park in Provost, covering over graffiti on Tuesday, July 17 and Wednesday July 18. Thirteen boys showed up at 8 a.m. to get started Tuesday morning and worked to 2 p.m. The next day a small group of the older boys came back to finish the work. Keith Heintz, the Parks and Recreation foreman, lent a helping hand and supervised the work party both days. The Town of Provost supplied paint and equipment as well as lunch and refreshments on both days for the volunteers while a couple parents also checked in to bring snacks and refreshments. Recreation board director Kevin Ganser told The News that "I was very impressed with them even wanting to do it, let alone they all worked very hard when we got at it." More photos in this paper. (Picture submitted).

Photo in July 25 edition of The Provost News.
Want to Subscribe to The Provost News? Click here.
Also in the July 25 print edition of The Provost News:

• Girls Win Alberta Softball Championship—Again

• Hughenden High School Has 34 Students at Graduation Ceremony
• Hughenden Teacher Tours Oilsands

• Macklin Student Winner of Petroleum Scholarship
Get more of story by subscribing to The Provost News? Click here.