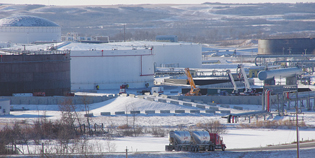 A building project at this massive tank farm (only partially seen here) 50 miles northwest of Provost and near Hardisty continues with workers adding more crude oil capacity. This picture was taken on \ shortly after an announcement came from the U.S. that the proposed $7 billion Keystone XL pipeline to be built by TransCanada Corporation was being rejected in its current form. ©Provost News Photo.

Photo in January 25 edition of The Provost News.
Want to Subscribe to The Provost News? Click here.
Pipeline Project via Provost MD to U.S. Stalled
TransCanada Corporation will re-apply for a new Keystone XL permit following a rejection of the $7 billion project in its current form.

The XL pipeline is designed to transport crude from Alberta's oil sands to the southern United States but those plans were denied in an announcement by the U.S. President Barack Obama on Wednesday afternoon, January 18.

Over 600,000 barrels of oil per day are still destined to flow 64.8 kms through the Provost M.D. territory on their way towards the Gulf of Mexico if a new permit is allowed.

Concerns over the route through a Nebraska aquifer has been expressed though others suspect political reasons for the denial of the presidential permit.

TransCanada's president and chief executive officer, Russ Girling said "We will re-apply for a presidential permit and expect a new application would be processed in an expedited manner to allow for an in-service date of late 2014."


TransCanada says that it will continue to work with Nebraska's department of environmental quality to determine the safest route for Keystone XL that avoids the Sandhills. That's expected to be completed by September or October this year.

Some groups across North America appeared happy with the decision but others were not.

Executive director at the Pembina Institute, Ed Whittingham said from Edmonton that "In denying the Keystone XL project, President Obama has recognized the risks this project could pose to the health and safety of the American people and to the environment, and the need to adequately review those concerns. Due public process is critical to making an informed decision." He added that "Whether Keystone XL or the proposed Gateway project (from Alberta to the B.C. coast), it's premature to start building additional pipeline capacity from the oil sands until we have a credible plan in place to responsibly manage the environmental impacts of oilsands production."
Rest of story in January 25 edition of The Provost News.
Want to Subscribe to The Provost News? Click here.