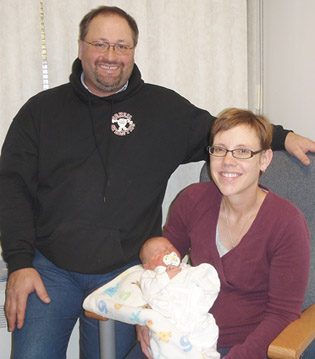 The first baby of 2012 born in the Provost Health Centre is little Alexander Daryl Sieben who arrived Friday evening, January 6, weighing in at 8 pounds, 10 ounces. His parents are also shown here: Daryl and Bonnie of Denzil, Sask. The baby and family will be presented with a variety of gifts from Provost merchants (see PN Jan. 4). The new baby has two older brothers and one sister. ©Provost News Photo.

Photo in January 11 edition of The Provost News.
Want to Subscribe to The Provost News? Click here.
Electrical Upgrade Will Smooth Out Voltage Fluctuations on Power Grid
A multi million dollar project is taking place east of Metiskow near Highway 13 that will create an improvement to the electrical grid.

The upgrade will mean that AltaLink will be able to use the power lines more efficiently and allow more electricity to be transferred over the existing lines.

The ABB construction manager on site, Tom Janas took some time recently to talk about the project with The News during an interview.

ABB is an engineering company based in Sweden and Switzerland which employes approximately 120,000 employees operating in 100 countries. A division called ABB Power Systems is working on the Hansman project for SNC Lavalin-AltaLink. SNC-Lavalin owns AltaLink.

The project, when complete will improve electrical capacity in the power system by smoothing out voltage fluctuations on the electrical lines near the existing Hansman electrical substation, allowing the lines to be fully utilized.
Janas points out that normal industrial use over the years changes electrical characteristics that cause the lines to eventually become inefficient.

Four basic components are being installed: a power transformer; a thyristor controlled reactor; thyristor switched capacitors; and harmonic filters with a control system from ABB to smooth out the voltage variations in the grid system. The system, says Janas, who came from Chicago to live in Provost for a few months while working on the project, has been around since 1975.

The work west of Provost has been going on for over a year, since initial studies and engineering began. Construction should finish in June followed by checking systems, start up and training.

The work is being treated as a construction project at this stage and not yet an operating facility. "Safety is always the number one consideration with AltaLink and ABB" says Janas adding they have common philosophies and goals. He emphasized that there is "no compromise for safety and we try to step back and look at new and innovative ways so we don't miss things . . . especially when things appear to be operating safely." This is a joint project of Black and McDonald (Edmonton) and also Sommerville (Toronto) he adds.
While the work is on-going, Janas is electronically documenting the various stages of work so that industry standards are met "in a verifiable way—even to those in Europe that look at our stored electronic documents—including diligence on the project."
Rest of story in January 11 edition of The Provost News.
Want to Subscribe to The Provost News? Click here.