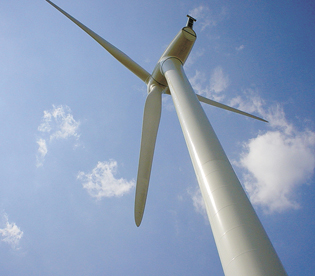 Wind turbines, similar to this one in Denmark could be erected north east of Provost as plans are being made for a project called Bull Creek to be constructed for electrical generation. © Provost News File Photo.
Photo in February 15 edition of The Provost News.
Want to Subscribe to The Provost News? Click here.
Company Advancing Wind Farm Project
A Calgary company that is the new owner of a proposed Bull Creek wind farm north east of Hayter is "still in the final planning phase" to erect at least 32 and possibly up to 44 turbines to generate electricity.
BluEarth Renewables Inc. president and chief executive officer, Kent Brown says depending on how many wind turbines are purchased, between $200 million and $275 million will be spent on the project.
An energy company called Windlab began working on the wind farm in 2007, selling it to BluEarth Renewables Inc. at the end of December 2011 for an undisclosed price.
Brown told The Provost News in a telephone interview from his Calgary office that the number of turbines purchased will be determined by the type of model to be used.

The farm is expected to generate between 80 megawatts (MW) and 110 MW and so in the industry this would be referred to as a large project. That much energy could power 30,000 to 35,000 homes.



Bull Creek will straddle land across the Provost and Wainwright M.D.s.

The project site is on roughly 9,000 contiguous acres says Brown.

An advertisement is in today's newspaper announcing a public information session in town on Thursday, March 1 for the wind project.

The turbines, to hub-height would be approximately 80 metres (over 260 feet) tall, though this could vary depending on the model.

Eight landowners who will be involved in the exact placement of where the turbines will be erected are expected to receive annual payments.

Brown adds that although he does not know the numbers yet, the tax generated to the MDs would be "significant" for the community.
Rest of story in February 15 edition of The Provost News.
Want to Subscribe to The Provost News? Click here.