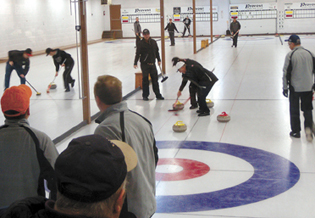 Some of the 17 teams competing at the Provost oilmen's bonspiel are shown on Saturday afternoon at the Agriplex as rocks were sliding. The annual event ran January 27 to 29 and featured a supper and a comedian on Saturday evening. First in the A final was the Baker Hughes team of Provost; B final: Prospector Oilfield Services team of Provost; C final: Bazooka Industrial of Cadogan. ©Provost News Photo.

Photo in February 1 edition of The Provost News.
Want to Subscribe to The Provost News? Click here.
Province Has Lost its 'Alberta Advantage' — Wildrose Leader
Approximately 225 people including some from the Provost area took in a supper with leader of the Wildrose Party Danielle Smith and Dave Nelson, candidate for the Battle River-Wainwright Constituency. The meeting was held at the Killam Community Centre on Monday evening, January 23.
Nelson is from Metiskow and also serves on the Buffalo Trail Public Schools board.

After O Canada Darcy Lakevold auctioned off the privilege of sharing dinner tables with the Wildrose leader and the Battle River Wainwright candidate. Kim Larson of Provost was the high bidder at $500 for Nelson and Doug Larson of Irma paid $1,250 for Smith's company.

Following dinner a video "Rick Mercer and Danielle Smith go on a Date" filmed at West Edmonton mall was enjoyed by the audience.

Nelson spoke briefly welcoming Smith and everyone else and then stressed what he called the need to change the way politicians in the constituency think and that the government needs to listen to its electorate. He also mentioned health care, education and environmental problems.



Smith then came to the podium and said she was looking forward to Nelson being a member of her caucus when Wildrose achieves their goal of forming the Alberta government. She said she felt consultation should be a two way dialogue—not a monologue and that a change of government is a leap of faith. Common sense needs to prevail at a time when 'our freedoms are under attack' in Alberta she stated.

Smith and Nelson then fielded a number of impromptu questions and concerns from the audience.

Landowners' rights in the province and particularly Bill 36 (the Alberta Land Stewardship Act), which gives 'enormous' power to government without compensation to landowners was discussed.
Rest of story in February 1 edition of The Provost News.
Want to Subscribe to The Provost News? Click here.