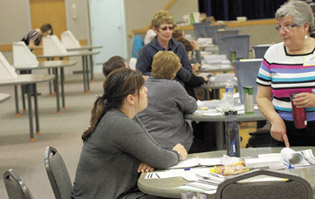 A woman, back left at the Provost Recreation and Culture Centre's Prairie Hall was among tens of thousands of voters who cast their ballot in Alberta's election held on Monday, April 23. Others meanwhile manned tables to help keep track of the process. ©Provost News Photo.

Photo in April 25 edition of The Provost News.
Want to Subscribe to The Provost News? Click here.
P.C.s Form Provincial Gov't. Again
• Wildrose Official Opposition
Defying the predictions of pollsters, the Progressive Conservative Party led by Alison Redford held to power to form a new government after ballots were counted in Alberta's general election held on Monday, April 23.

The Wildrose Party led by Danielle Smith will form the official opposition.

At press time late Monday evening (11:45 p.m.) in Battle River- Wainwright constituency there were 71 of 82 polls reporting: P.C.'s Doug Griffiths with 6,009 votes while close behind at that time was Wildrose Party's Dave Nelson at 5,626 votes. Liberal's Amber Greenleese had 382 votes, the NDP's Terry Zawalski had 639 votes and Midge Lambert for the Alberta Party had 215.

Just to the south of Provost, Altario farmer Rick Strankman for the Wildrose had 7,052 votes —ahead of Jack Hayden (PC) who had 6,223 votes with 84 out of 87 polls reporting for Drumheller-Stettler.



Other unofficial results (out of 87 electoral divisions:
PC: 62 seats.
(in 2008: 72 seats)
Wildrose Party: 17.
(in 2008: 0 seats)
Liberal: 4.
(in 2008: 9 seats)
NDP: 4.
(in 2008: 2 seats)
Other: 0.

Redford said of the 12th consecutive PC win that there was some disappointment for some candidates who were not successful and she thanked her supporters and the leaders and candidates of other parties. She publicly stated that it was time for "politics to change" and move Alberta forward." Redford said that the new government will change and "get it right."

Smith, addressing a crowd election night after the results came in said she earlier phoned Redford to congratulate her and also thanked the leaders and candidates of the other parties. She added that "change might take a little longer than we thought" but was pleased with the "remarkable" growth of Wildrose pointing out that four years ago they had zero seats—and in 2009 had one seat. She added that she was surprised and disappointed that they did not do better but was not discouraged.

Full story in April 25 edition of The Provost News.
Want to Subscribe to The Provost News? Click here