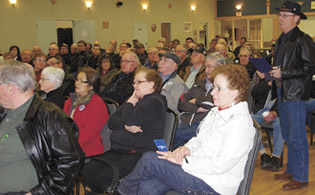 Those at a political forum in Provost were able to pose questions to candidates running for MLA in the Alberta election. Here Tim McNalley asks about proposed electrical lines to be built in the area. Three out of five candidates running in this constituency attended the Provost and District Chamber of Commerce debate. ©Provost News Photo.

Photo in April 18 edition of The Provost News.
Want to Subscribe to The Provost News? Click here.
Crowd Hears Three Candidates at Political Debate
An estimated 175 people turned out in Provost to hear from three of the five candidates running in this constituency for the provincial election on April 23.

The debate held on Tuesday evening, April 10 was organized by the Provost and District Chamber of Commerce and held at Prairie Hall.

Moderator Randy Gregory introduced 39 year old Doug Griffiths for the Progressive Conservative Party, 69 year old Midge Lambert for the Alberta Party and 47 year old Dave Nelson representing the Wildrose Party at the 7 p.m. meeting.
Each candidate took a few minutes to talk about their backgrounds and what their party stands for.

Griffiths, of Hardisty has been the MLA for the Battle River-Wainwright Constituency for 10 years. Before that he was a rancher and teacher and when the legislature dissolved he had been the Minister of Municipal Affairs.

Lambert is from the community of Kelsey, Alta., (population 14) which is south east of Camrose. She said 38 candidates from her party are running and that she is a retired small business operator and "wants to do government better" by listening to people."



Nelson, a fourth generation farmer from Metiskow has served on the Buffalo Trail Public Schools board as trustee for seven years and has been also involved with 4-H, an agricultural society and is a Lions Club member at Hughenden.

Others running in this constituency but who weren't present at the forum were 25 year old bank teller, who works in Edmonton, Amber Greenleese for the Alberta Liberal Party; and 54 year old Terry Zawalski of Edmonton (who works for seniors housing placement) for the Alberta New Democrats.
Several prepared questions were posed to each of the candidates who took turns answering them.

The first question asked was what each political party wants to do for the continued success of communities:

Full story in April 18 edition of The Provost News.
Want to Subscribe to The Provost News? Click here