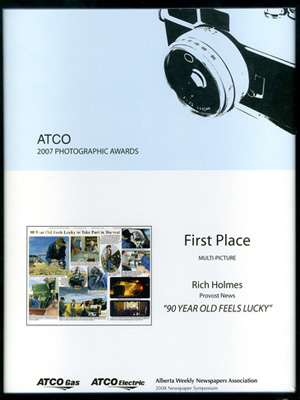 Provost News First in Provincial Photo Competition
The Provost News took first place in a province-wide newspaper competition.

The Alberta Weekly Newspaper Association announced the ATCO Gas and ATCO Electric sponsored awards on Saturday night, January 26 during a two day symposium.

In this "multi-photo" category there were over 60 entries from community newspapers across Alberta.

The News entry was entitled "90 Year Old Feels Lucky to Take Part in Harvest" and features long-time farmer Harold Olson among 11 pictures used by photojournalist Rich Holmes.

The two page spread was featured in the September 12, 2007 edition.

This competition was a wide-open one and not categorized by size of newspaper. Second place was won by the St. Albert Gazette, circulation over 24,000 copies; while third was awarded to the Red Deer Express which sends out 39,000 copies. The Provost News has approximately 2,000 copies on average weekly.